The Pediatrics & Human Development Division of Human Genetics offers a wide range of services from our clinics in East Lansing, Flint, and Kalamazoo. We provide specialized and individualized care to those seeking genetic information, from newborns to adults.
---
What is Genetic Testing?
Genetic testing is a method by which medical professional identify changes or abnormalities in a patient's genetic material. The results of such testing can help confirm or exclude a suspected genetic condition, or help calculate the likelihood that a specific condition may be passed onto a child.
There are many different types of genetic tests. However, genetic testing is not available for all genetic conditions. Medical geneticists and genetic counselors are trained to determine which genetic testing options are most appropriate for a given individual or family. Our genetics teams will discuss any available testing that may benefit you or your family.
---
Our Services
Pediatric

Adult

- Birth defects

- Unusual facial features or physical characteristics

- Autism

- Developmental delay

- Cognitive impairment

- Learning disabilities

- Intellectual disabilities

- Cystic fibrosis

- Family history of genetics conditions

- Diagnosis of a genetic conditions (suspected or confirmed)

- Growth problems

- Previous diagnosis of a genetic condition

- Adult onset of symptoms suggestive of a genetic condition

- Family history of a genetic condition

- A child or pregnancy with a genetic condition or birth defect
Hereditary Cancers


We also see patients concerned about hereditary cancers, including individuals with a personal or family history of cancer. Genetic testing may be recommended if:
- Your cancer was diagnosed at an earlier-than-typical age
- You have been diagnosed with cancer more than once (either the same type or a different type of cancer)
- Multiple family members have had cancer, especially if they suffered from the same type of cancer
- Your cancer is a rare or unusual type of cancer
- Your cancer was diagnosed bilaterally (on both sides)
- You have other features associated with a hereditary cancer syndrome (e.g., ten or more non-cancerous colon polyps)
---
What Happens During a Genetics Clinic Visit?
A typical visit to the genetics clinic includes a review of your individual and family medical histories by a small team comprised of a medical geneticist and a genetics counselor. A physical examination may be performed, if appropriate.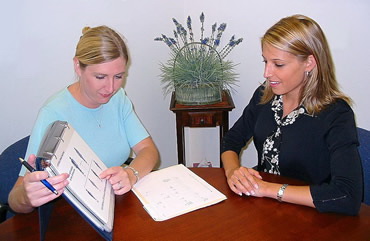 Once all pertinent information has been gathered, your team will discuss your condition in detail, including:
- The condition's clinical features and natural history
- The manner by which the condition is inherited
- The chance that other family members may also have inherited the same condition
- Further options for testing and screening
- Options for treatment or management
- Recent scientific advances made in relation to the condition
Note: Sometimes, laboratory tests may be ordered or recommended during a visit. It often takes several weeks to receive the results of these tests, and a second visit to discuss testing results is sometimes required.
---
Locations