Mark your calendars! The annual Michigan State University College of Human Medicine Teddy Bear Picnic will be held Saturday, September 16th, 2017 11:00 AM to 3:00 PM at the MSU Clinical Center. The Blue Cross Blue Shield Teddy Bear Hospital will be accepting new patients, so all are encouraged to bring their favorite stuffed companion in for a free check-up.
Cancer treatment is a notoriously unpleasant process. The strict regimen of regular trips to the clinic for several hours at a time can grind down on a patient at a time when positivity and willpower could not be more important. Our Division of Pediatric and Adolescent Hematology/Oncology keeps their patients' spirits high with the gift of toys. Every child who comes to their clinic for an extended visit can pick a toy from their toy chest to use while they are there, and take with them when they leave.
Our friends at The Bottomless Toy Chest dropped by last week to make sure we had plenty of toys for our upcoming appointments: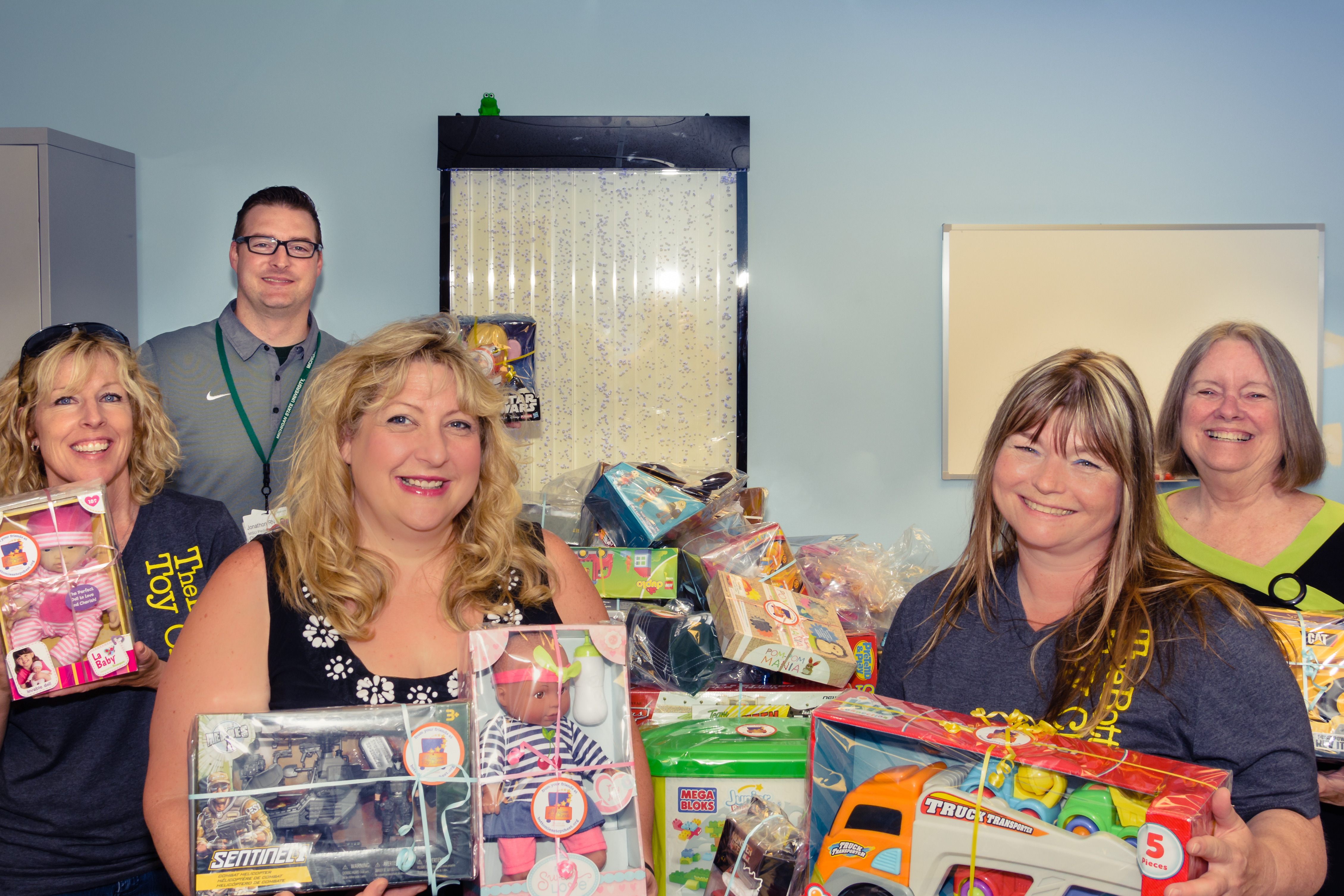 Read more ...
This past Thursday we were proud to welcome former Pediatrics and Human Development Interim Chair and College of Medicine Dean Dr. Marsha Rappley back to Sparrow Hospital and Michigan State University for Pediatric Grand Rounds. Dr. Rappley left MSU last year to become Chief Executive Officer of the Virginia Commonwealth University Healthy System and Vice President of Virginia Commonwealth Univeresity Health Sciences. Please watch her presentation, "Shifting the burdens of care for children and families", below:
Professor and Head of the Pennsylvania State University Department of Biochemistry and Molecular Biology Scott B. Selleck MD, PhD visited our Grand Rapids and East Lansing campuses last week, delivering a different presentation at each location. Dr. Selleck studies the molecular mechanisms of nervous system development, with particular emphasis on proteoglycans as signal pathway regulators, and the genetics of Autism Spectrum Disorder. Recordings of Dr. Selleck's two presentations are available below.
Read more ...
The Michigan State University College of Human Medicine Department of Pediatrics and Human Development is happy to have to hosted Rebecca Knickmeyer Santelli for a short visit last week. Dr. Santelli is an associate professor with the Department of Psychiatry at the University of North Carolina, Chapel Hill, and she was kind enough to give a brief presentation titled Genes, "Microbes, and the Infant Brain". For those unable to attend, we have provided a recording of the presentation below:

A WORD FROM THE CHAIR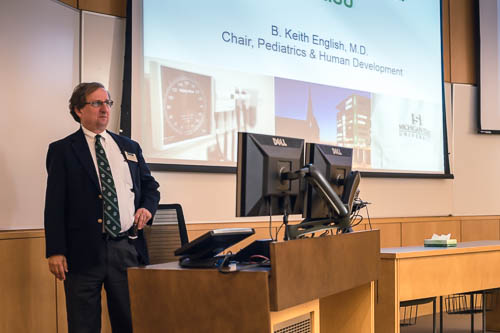 The Department of Pediatrics and Human Development is comprised of a diverse faculty who share a common concern for all aspects of human growth and development, both normal and abnormal. The Department has a statewide footprint with faculty in Lansing, Grand Rapids, Flint, Southfield, Midland, Traverse City, and Marquette/Escanaba. The Department has educational responsibilities at all levels in the curriculum of the College of Human Medicine. Its faculty participate in courses which relate biological, behavioral, and clinical sciences to child health. Departmental faculty play major roles in the new College of Human Medicine Shared Discovery Curriculum and its Learning Societies. The Department also has responsibility for general pediatric clerkships and pediatric subspecialty electives in the clinical medical curriculum. The Department participates actively in graduate medical education with three affiliated pediatric residency programs (with Sparrow Hospital in Lansing, Helen DeVos Children's Hospital in Grand Rapids, and Hurley Children's Hospital in Flint), three affiliated pediatric subspecialty fellowship programs (Perinatal-Neonatal Medicine in Lansing; Pediatric Hematology-Oncology and Pediatric Critical Care Medicine in Grand Rapids), and in CME. In addition, faculty members work with students in other graduate programs in the University. Individual faculty members of the Department participate in patient care and render medical consultation services in their respective subspecialty areas. The research endeavors of the departmental faculty are expanding and aim to help create a healthier, better functioning society by improving the health and wellbeing of the child and family.
B. Keith English, MD
Professor and Chair