A Word from the Chair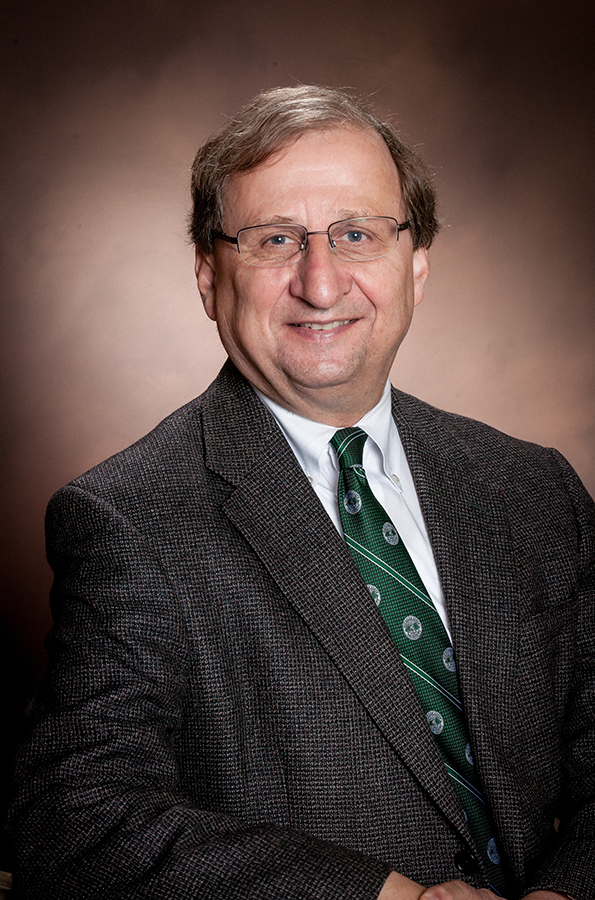 The Department of Pediatrics and Human Development is comprised of a diverse faculty who share a common concern for all aspects of human growth and development, both normal and abnormal. The Department has a statewide footprint with faculty in Lansing, Grand Rapids, Flint, Southfield, Midland, Traverse City, and Marquette/Escanaba. The Department has educational responsibilities at all levels in the curriculum of the College of Human Medicine. Its faculty participate in courses which relate biological, behavioral, and clinical sciences to child health. Departmental faculty play major roles in the new College of Human Medicine Shared Discovery Curriculum and its Learning Societies. The Department also has responsibility for general pediatric clerkships and pediatric subspecialty electives in the clinical medical curriculum. The Department participates actively in graduate medical education with three affiliated pediatric residency programs (with Sparrow Hospital in Lansing, Helen DeVos Children's Hospital in Grand Rapids, and Hurley Children's Hospital in Flint), three affiliated pediatric subspecialty fellowship programs (Perinatal-Neonatal Medicine in Lansing; Pediatric Hematology-Oncology and Pediatric Critical Care Medicine in Grand Rapids), and in CME. In addition, faculty members work with students in other graduate programs in the University. Individual faculty members of the Department participate in patient care and render medical consultation services in their respective subspecialty areas. The research endeavors of the departmental faculty are expanding and aim to help create a healthier, better functioning society by improving the health and wellbeing of the child and family.
B. Keith English, MD
Professor and Chair
DEPARTMENT OF PEDIATRICS AND HUMAN DEVELOPMENT
Save the date!
The Michigan State University College of Human Medicine Department of Pediatrics and Human Development is pleased to announce the 6th Annual Autism/Neurodevelopmental Disabilities Family-Professional Conference will be held Thursday, July 28th, 2022.
This free conference is open to both families and health care professionals will be held 9:00 AM - 4:00 PM at the James B. Henry Center in East Lansing.
A list of speakers and conference program is forthcoming.
The Scientist has published an article detailing the recent work of Pediatrics and Human Development faculty Caleb Bupp, MD, Surender Rajasekaran, MD, and André S. Bachmann, PhD. Read more here.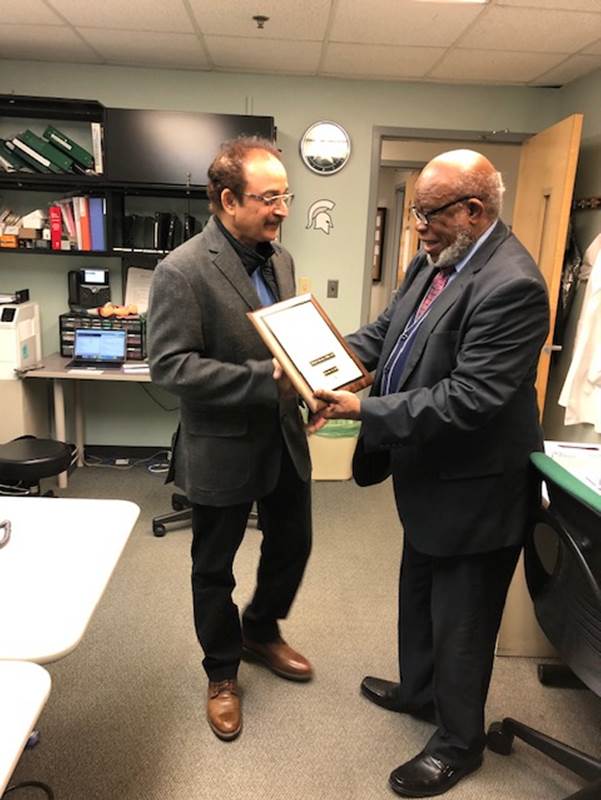 Please join us in congratulating Dr. Mahesh Sharman for winning the 2021 William B. Weil, Jr., M.D., Endowed Distinguished Pediatric Faculty Award!
The Weil Award is the most prestigious conferred by the Department of Pediatrics and Human Development, and honors our Founding Chair and his many contributions to the health and well-being of children in our region.
Dr. Sharman is richly deserving of this great honor!
Congratulations, Dr. Sharman!
We are saddened to report that our friend and colleague Dr. Ira Gewolb passed away on October 20, 2021.
Dr. Gewolb was an internationally recognized leader in the field of neonatology and served as a tenured Professor in the Department of Pediatrics and Human Development in the College of Human Medicine at Michigan State University and Chief of the Division of Neonatology from 2004 until his retirement in 2019.
Ira earned his B.S. in biology summa cum laude at Yale University, trained in Pediatrics at Boston Children's Hospital then returned to Yale for his neonatology fellowship. Before coming to MSU, Dr. Gewolb had been an Associate Professor of Pediatrics at the Albert Einstein College of Medicine and Director of Newborn Services at Jacobi Hospital. Ira was a member of the American Pediatric Society and the Society for Pediatric Research and had served as President of the Eastern Society for Pediatric Research. Dr. Gewolb received many national awards during his career, including the Basil O'Connor Award from the March of Dimes and the Young Investigator Award from the New England Perinatal Society.
At MSU and in the Regional Newborn Intensive Care Unit at Sparrow Hospital, Ira was a tireless advocate for the wellbeing of newborns. Dr. Gewolb's legacy will live on in the hundreds of medical students, pediatric residents and neonatology fellows he trained.
Thank you, Ira.
- B. Keith English, MD, Professor and Chair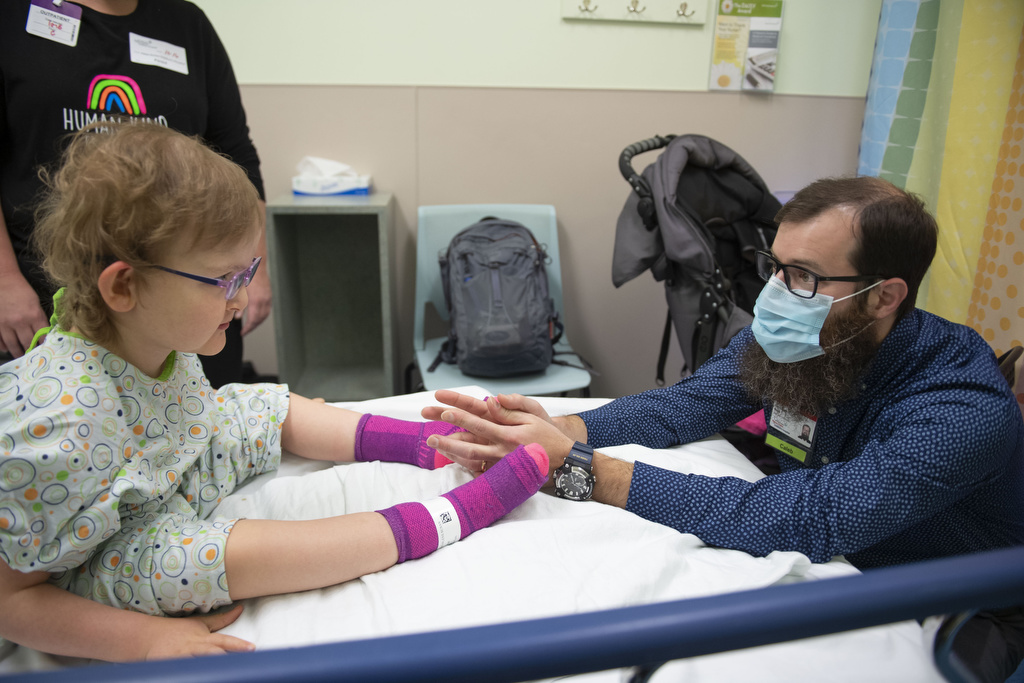 There has been promising progress in the treatment of Marley Berthoud, the patient in whom the rare genetic condition Bachmann-Bupp Syndrome. Named for Pediatrics and Human Development faculty André Bachmann, PhD and Caleb Bupp, MD, who first identified the novel condition in Marley two years ago, Bachmann-Bupp Syndrome is caused by a rare mutation in the ODC1 gene, which is instrumental in the production of polyamines.
To treat Marley, Drs. Bachmann and Bupp, and fellow MSU researcher Surrender Rajasekaran, MD, considered the therapeutic potential of DFMO, a drug that gained popularity in the 1990s in its treatment African Sleeping Sickness. In 2019, Marley's case became the first FDA-approved single-patient study to treat ODC1 mutation with DFMO. Since, she has shown significant improvement in the intervening months. Once struggling to support the weight of her own head, Marley is now able to sit upright and feed herself.
Read more about Marley's treatment and progress here:
Two years into treatment, girl with genetic disorder discovered by MSU docs drastically improved (Lansing State Journal)
And here:
MSU Miracle for Marley (WILX10)
And here:
Marley's marvelous success (MSU Today)