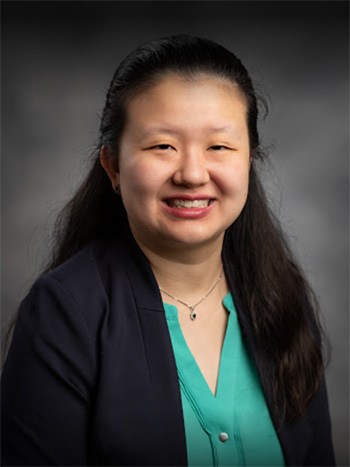 Assistant Professor
Email
Dr. Linda Rossetti is a board-certified pediatrician and medical geneticist at Spectrum Health Helen DeVos Children's Hospital in Grand Rapids, Michigan, and an assistant professor in the department of pediatrics and human development at Michigan State University. She is a Michigan native who attended the University of Michigan for her undergraduate degree in Biology. She then attended medical school at Michigan State University College of Human Medicine before completing a combined residency in pediatrics and medical genetics at Baylor College of Medicine and Texas Children's Hospital in Houston, Texas. Her clinical interests include the genetics of autism spectrum disorder and intellectual disability, multiple congenital anomaly syndromes, and differences of sex development.
Education & Training
Residency in Pediatrics and Medical Genetics, Texas Children's Hospital/Baylor College of Medicine, Houston, TX June 2016 – June 2020


M.D., Michigan State University College of Human Medicine, Grand Rapids, MI August 2012 – May 2016


B.S. in Biology (with Distinction), University of Michigan, Ann Arbor, MI August 2008 – April 2012
Teaching Responsibilities
Genomics Moments – Genetics Faculty Lead


Pediatric Residency Clinical Competency Committee – Member
Clinical Responsibilities
Selected Peer-Reviewed Publications
Rossetti LZ, Bekheirnia MR, Lewis AM, Mefford HC, Golden-Grant K, Tarczy- Hornoch K, Briere LC, Sweetser DA, Walker MA, Kravets E, Stevenson DA, Bruenner G, Sebastian J, Knapo J, Rosenfeld JA, Marcogliese PC; Undiagnosed Diseases Network, Wangler MF. Missense variants in CTNNB1 can be associated with vitreoretinopathy-Seven new cases of CTNNB1-associated neurodevelopmental disorder including a previously unreported retinal phenotype. Mol Genet Genomic Med. 2021 Jan;9(1):e1542. doi: 10.1002/mgg3.1542. Epub 2020 Dec 22. PMID: 33350591; PMCID: PMC7963417.


Slater B, Glinton K, Dai H, Lay E, Karaviti L, Mizerik E, Murali CN, Lalani SR, Bacino CA, Rossetti LZ. Sudden infant death with dysgenesis of the testes syndrome in a non-Amish infant: A case report. Am J Med Genet A. 2020 Nov;182(11):2751-2754. doi: 10.1002/ajmg.a.61842. Epub 2020 Sep 4. PMID: 32885560.


Rossetti LZ, Glinton K, Yuan B, Liu P, Pillai N, Mizerik E, Magoulas P, Rosenfeld JA, Karaviti L, Sutton VR, Lalani SR, Scott DA. Review of the phenotypic spectrum associated with haploinsufficiency of MYRF. Am J Med Genet A. 2019 Jul;179(7):1376-1382. doi: 10.1002/ajmg.a.61182. Epub 2019 May 8. PMID: 31069960; PMCID: PMC6557668.