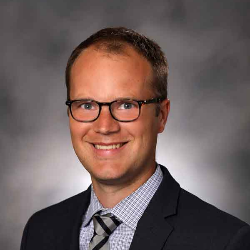 Justin Triemstra, MD is an Assistant Professor of Pediatrics and Human Development at Michigan State University College of Human Medicine where he is an Associate Program Director of the Pediatrics Residency Program at Spectrum Health/Helen DeVos Children's Hospital. His research interests bridge the advocacy, educational, and clinical continuum of scholarship. His educational scholarship focuses on the professional identity formation, physician mentorship of academic physicians, and graduate medical education. His clinical research focuses on integrating preventive behavioral health interventions in primary care settings while his advocacy work focuses on advancing the understanding of how social determinants of health affect cost and access to care. Clinically, he supervises residents at the Academic General Pediatric Clinic and provides clinical care at the Adolescent and Young Adult Medicine Clinic at Helen DeVos Children's Hospital, Spectrum Health.
Education & Training
MPHE, University of Michigan, Ann Arbor, MI (2019 - present)


Chief Residency, University of Chicago, Chicago, IL (2016-2017)


Pediatrics Residency, University of Chicago, Chicago, IL (2013-2016)


MD, Loyola University Chicago, Stritch School of Medicine, Maywood, IL (2009 – 2013)


BS, Calvin College, Grand Rapids, Michigan (2005 -2009)
Clinical Activities
Pediatric Adolescent Medicine Clerkship/PHD 617
Ambulatory Pediatric Clerkship/PHD 602
Selected Grants
Society of Directors of Research in Medical Education


Helen DeVos Children's Hospital – Pediatric Research Fund (Co-PI with Dr. Julia Felton, PhD, MSU)


Helen DeVos Children's Hospital Foundation
Selected Peer-Reviewed Publications
Triemstra JD. "Becoming a Medical Educator." Medical Education. 2018;52:1210-1211. PMID: 30345682.


Triemstra JD and Lowery L. "Prevalence, Predictors and the Financial Impact of Missed Appointments in an Academic Adolescent Clinic." Cureus Journal of Medical Science. 2018;10(11):e3613. PMID: 30680269.


*Lickiss S, Lowery L, Triemstra JD. "Voter Registration in an Urban Adolescent and Young Adult Medicine Primary Care Clinic". Journal of Adolescent Health. May, 2020. [published online, ahead-of-print], https://doi.org/10.1016/j.jadohealth.2019.11.316.


Triemstra JD and Monterrey AC. "The Health of Children Who Are Immigrants and Refugees: A Review for the General Pediatrician". ¬Pediatric Annals. 2019;48:e455-e460. PMID: 31710365.