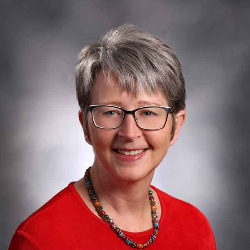 Associate Professor
Email
Dr. Seaver's career interests includes description of and mechanisms involved in birth defects, genetic disorders with neurobehavioral symptoms. She has many years of experience developing and teaching Medical Genetics curriculum at all levels. She is a faculty member of the Spectrum Health Clinical Teacher Program to enhance teaching skills among physicians and other health care providers and the Senior Academic Advisor at HDVCH with aim to help advance research and education initiatives at Spectrum Health.
Education & Training
07/1990 - 06/1993: University of Arizona College of Medicine, Tucson, Arizona: Department of Pediatrics, Fellowship, Genetics/Dysmorphology


07/1987 - 06/1990: University of Arizona College of Medicine, Tucson, Arizona; Department of Pediatrics, Pediatric Resident (PL-1, PL-2, PL-3)


07/1983 -05/1987: University of Arizona College of Medicine, Tucson, Arizona; M.D.


08/1979 - 05/1983: University of Arizona, Tucson, Arizona; B.S. Biology, with High Distinction
Teaching Responsibilities
Spectrum Health/HDVCH Pediatric Residency Core Faculty for Medical Genetics
Clinical Responsibilities
HDVCH Medical Genetics and Genomics
Selected Peer-Reviewed Publications
Mintz C, Seaver LH, Irons M, Grimberg A, Lozano R on behalf of the ACMG Professional Practice and Guidelines Committee. Focused Revision: ACMG practice resource: Genetic evaluation of short stature. Genet Med 23, 813–815 (2021). https://doi.org/10.1038/s41436-020-01046-0


Grebe TA, Khushf G, Chen M, Bailey D, Manace Brenman L, Williams MS, Seaver LH on behalf of the ACMG Social, Ethical and Legal Issues Committee: The interface of genomic information with the electronic health record: a points to consider statement of the American College of Medical Genetics and Genomics (ACMG). Genet Med 22, 1431–1436 (2020). https://doi.org/10.1038/s41436-020-0841-2


Biesecker LG, Adam MP, Alkuraya FS, Amemiya AR, Bamshad MJ, Beck AE, Bennett JT, Bird LM, Carey JC, Chung B, Clark RD, Cox TC, Curry C, Dinulos MBP, Dobyns WB, Giampietro PF, Girisha KM, Glass IA, Graham JM Jr, Gripp KW, Haldeman-Englert CR, Hall BD, Innes AM, Kalish JM, Keppler-Noreuil KM, Kosaki K, Kozel BA, Mirzaa GM, Mulvihill JJ, Nowaczyk MJM, Pagon RA, Retterer K, Rope AF, Sanchez-Lara PA, Seaver LH, Shieh JT, Slavotinek AM, Sobering AK, Stevens CA, Stevenson DA, Tan TY, Tan WH, Tsai AC, Weaver DD, Williams MS, Zackai E, Zarate YA. A dyadic approach to the delineation of diagnostic entities in clinical genomics. Am J Hum Genet. 2021 Jan 7;108(1):8-15. doi: 10.1016/j.ajhg.2020.11.013. PMID: 33417889.


Prokop JW, Gupta R, Leimanis ML, Nedveck D, Shankar R, Uhl K, Chen B, Hartog NL, VanVeen J, Sisco JS, Sirpilla O, Lydice T, Boville B, Hernandez A, Braunreiter C, Kuk CYC, Singh V, Mills J, Wegener M, Adams M, Rhodes M, Bachmann AS, Pan W, Byrne-Steele ML, Smith, DC, Depinet M, Brown BE, Eisenower M, Han J, Haw M, Madura C, Sanfilippo DJ, Seaver LH, Bupp C, Rajasekaran S. Viral Induced Genetics Revealed by Multi-Dimensional Precision Medicine Transcriptional Workflow. Prokop JW, Shankar R, Gupta R, et al. Virus-induced genetics revealed by multidimensional precision medicine transcriptional workflow applicable to COVID-19. Physiol Genomics.2020;52(6):255-268. doi:10.1152/physiolgenomics.00045.2020


Jacobs EZ, Brown K, Byler MC, D'haenens E, Dheedene A, Humberson JB, van Jaarsveld RH, Lebel RR, Oegema R, Oostra A, Rhodes L, Saenz M, Seaver LH, Vanlander A, Vergult S, Callewaert B. Expanding the molecular spectrum and the neurological phenotype related to CAMTA1 variants. Clin Genet. 2021; 99(2):259-268. doi: 10.1111/cge.13874. Epub 2020 Nov 23. PMID: 33131045.
Awards & Honors
University of Hawaii Department of Obstetrics/Gynecology and Women's Health "Peri" Award for MFM teaching (2016)


University of Hawaii Department of Pediatrics Faculty Teaching Award (2007, 2012)


Graduating Resident Award for Excellence in Clinical Service, University of Arizona Department of Pediatrics, 1990


Alpha Omega Alpha Medical Honor Society