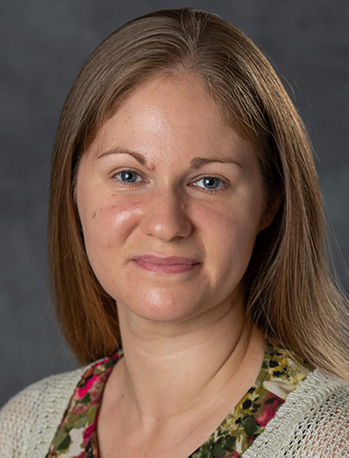 Laura Agresta, Assistant Professor in the College of Human Medicine's Department of Pediatrics and Human Development, conducts research focused on translating genetically-informed, precision therapies into the clinic for children and adolescents with cancer. Childhood cancers are biologically distinct from adult cancers and require research specifically focused on finding drug targets and treatments specific to their biology. Dr. Agresta collaborates with basic scientists, physicians, pharmacists, and other specialists to identify the most promising drug candidates and develop trials to safely study new drugs in young patients. She is also interested in optimizing drug efficacy and minimizing toxicity through the use of pharmacokinetic modeling to "personalize" drug dosing where possible in cancer treatment. Clinically, Dr. Agresta works with a multidisciplinary team to tailor the optimal treatment approach for each patient. She hopes that continued, highly-collaborative research in pediatric precision oncology will one day provide every patient with a safe and curative therapy.
Education & Training
Fellowship, Precision Cancer Therapeutics, Clinical Pharmacology & Predictive Medicine, Cincinnati Children's Hospital
M.S. Pharmacology with Specialization in Drug Development, University of Cincinnati
Fellowship, Pediatric Hematology/Oncology, Cincinnati Children's Hospital Medical Center
Residency, Pediatrics, Children's Hospital of Pittsburgh
M.D., Michigan State University College of Human Medicine, East Lansing, MI
B.A. cum laude Biochemistry, Smith College, Northampton, MA
Clinical Activities
Pediatric Hematology/Oncology, MSU Pediatric Subspecialty Clinic and Sparrow Hospital.
Selected Grants
Conquer Cancer Young Investigator Award 2020 Title: A Phase I Study of Venetoclax and Vyxeos (CPX-351) for Children, Adolescents, and Young Adults with Relapsed or Refractory Acute Leukemia
CancerFree KIDS Research Grant 2018 Title: Investigating CD244 as a New Therapeutic Target for Immune Checkpoint Inhibition
Arnold W. Strauss Fellow Award 2017 Title: CD244 Signaling in Myeloid-Derived Suppressor Cells Mediates Inhibition of CD8+ T cells
Selected Peer-Reviewed Publications
Agresta L, Lehn M, Lampe K, Cantrell R, Hennies C, Szabo S, Wise-Draper TM, Conforti L, Hoebe K, Janssen EM. CD244 Represents a New Therapeutic Target in Head and Neck Squamous Cell Carcinoma. J Immunother Cancer. 2020 Mar 8. 8(1):e000245. PMID: 32217758
Agresta L, Salloum R, Hummel TR, Ratner N, Mangano, FT, Fuller C, McMasters RL, Pater L, Jones BV, Szabo S, Pressey JG. Malignant Peripheral Nerve Sheath Tumor: Transformation in a Patient with Neurofibromatosis Type 2. Pediatr Blood Cancer. 2019 Feb;66(2):e27520. PMID: 30408304.
Agresta L, Hoebe K, Janssen E. The Emerging Role of CD244 Signaling in Immune Cells of the Tumor Microenvironment. 2018 Nov 8. Front. Immunol. 9:2809. PMID: 30546369.
Agresta L, Kim H, Szabo S, Turpin BK, Nagarajan R, Plemmons A, Dasgupta R, Sorger JI, Pressey JG. Pazopanib Therapy for Desmoid Tumors in Adolescent and Young Adult (AYA) Patients. Pediatr Blood Cancer. 2018. 65(6):e26968. PMID: 29384266.
Hong S, Agresta L, Guo C, Wiley JW. 2008. The TRPV1 receptor is associated with preferential stress in large dorsal root ganglion neurons in early diabetic sensory neuropathy. 2008. J Neurochem. 105(4):1212-1222. PMID: 18182051