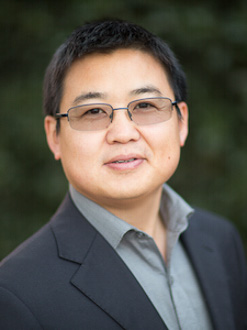 Prior to this position, Dr. Chen was an assistant professor in the Institute for Computational Health Sciences at University of California, San Francisco. Dr. Chen is also the founding member of DahShu, a non-profit organization to promote research and education in data sciences. Dr. Chen trained as a chemist in college, worked as a software engineer before graduate school, trained as a chem/bioinformatician in graduate school, worked as a computational scientist at Novartis, Pfizer and Merck. He received his PhD in informatics at Indiana University, Bloomington and pursed the postdoctoral training in Dr. Atul Butte's lab at Stanford University. His work has been featured in STAT, GEN, GenomeWeb and KCBS.
The long-term goal of Dr. Bin Chen's lab is to develop computational methods and tools to discover new or better therapeutic candidates for cancers through collaborating with bench scientists and clinicians. Rapidly decreasing costs of molecular measurement technologies not only enable profiling of disease sample molecular features (e.g., transcriptome, proteome, metabolome) at different levels (e.g., tissues, single cells), but also enable measuring of cellular signatures of individual drugs in clinically relevant models. Our lab is interested in leveraging these data and artificial intelligence to connect different components (patients, tissues, in vitro models and in vivo models) in translational research.
Using a systems-based approach, we have successfully identified drug candidates for three cancers: Ewing's sarcoma (Oncotarget, 2016), liver cancer (Gastroenterology, 2017) and basal cell carcinoma (JCI Insight, 2017). In our recent pan-cancer analysis, we found that the potency to reverse cancer gene expression correlates to drug efficacy (Nature Communications, 2017). We are currently applying this approach in the following areas: 1) discovering drugs to overcome drug resistance, 2) discovering novel oncogene inhibitors, and 3) discovering small molecules regulating cell reprogramming. In addition to this approach, we develop approaches to leverage emerging single cell data and deep learning approaches for personalized cancer therapy.
Education & Training
2000 - 2004 Chongqing University, China B.A. Chemistry
2007 - 2009 Indiana University, Bloomington M.S. Chemical Informatics
2009 - 2012 Indiana University, Bloomington Ph.D. Informatics
2012 - 2015 Stanford University Postdoc Bioinformatics
Selected Grants
K01, Big Data to Knowledge Career development (BD2K), NIH
R21, National Center for Advancing Translational Sciences (NCATS), NIH
P01, National Cancer Institute (NCI), NIH
U24, National Institute of Diabetes and Digestive and Kidney Diseases (NIDDK), NIH
Stanford Cancer Center for Clinical Trial and Translational Research and Education
L'Oreal USA Product Inc.
Selected Peer-Reviewed Publications
Chen B, Wei W, Ma L, Yang B, Gill RM, Chua MS, Butte AJ, So S. Computational Discovery of Niclosamide Ethanolamine, a Repurposed Drug Candidate That Reduces Growth of Hepatocellular Carcinoma Cells In Vitro and in Mice by Inhibiting Cell Division Cycle 37 Signaling. Gastroenterology. 2017 Jun; 152(8):2022-2036. PMID: 28284560.
Chen B, Ma L, Paik H, Sirota M, Wei W, Chua MS, So S, Butte AJ. Reversal of cancer gene expression correlates with drug efficacy and reveals therapeutic targets. Nat Commun. 2017 Jul 12; 8:16022. PMID: 28699633.
Pessetto ZY, Chen B, Alturkmani H, Hyter S, Flynn CA, Baltezor M, Ma Y, Rosenthal HG, Neville KA, Weir SJ, Butte AJ, Godwin AK. In silico and in vitro drug screening identifies new therapeutic approaches for Ewing sarcoma. Oncotarget. 2017 Jan 17; 8(3):4079-4095. PMID: 27863422.
Chen B, Butte AJ. Leveraging big data to transform target selection and drug discovery. Clin Pharmacol Ther. 2016 Mar; 99(3):285-97. PMID: 26659699; PMCID: PMC4785018.
Chen B, Ding Y, Wild DJ. Assessing drug target association using semantic linked data. PLoS Comput Biol. 2012; 8(7):e1002574. PMID: 22859915; PMCID: PMC3390390.
Awards & Honors
2010 CINF Scholarship for Scientific Excellence ACS Chemical Information Division
2012 Lucille Wert Scholarship ACS Chemical Information Division
2014 Jason Morrow Trainee Award 2014 ASCPT
2014 Presidential Trainee Award 2014 ASCPT
2015 Presidential Poster of Distinction, 2015 The Liver Meeting
2015 Intel Science Talent Search (Intel STS) 2015 Research Teacher
2016 LINCS meeting travel fellowship
2017 BD2K K01 Award NIH