Our Mission:
To deliver the best possible training for pediatric residents to graduate excellent pediatricians through experiences with a diverse pediatric population in a positive supportive environment surrounded by faculty that love to teach while providing optimal patient care.
What We Do:
Our program is a cooperative effort between the MSU College of Human Medicine, the MSU College of Osteopathic Medicine, and Sparrow Hospital; as a result, our program is the perfect combination of academic and community pediatrics. Our program synthesizes the strengths of these institutions to deliver state-of-the-art training that prepares our residents for successful careers in both general pediatrics and subspecialties. Our small size (8 residents per year) promotes individualized teaching, autonomy, and hands-on experience working directly with attendings. Approximately half of our residents choose to subspecialize and half go into private or academic practice. We have a strong track record of job placement for our graduates going into general pediatrics and our residents consistently match into prestigious fellowship programs at top children's hospitals in their chosen specialty.
How We Do It:
Residents benefit greatly from the cooperative effort between Michigan State University and Sparrow Hospital and participate in a wide variety of learning experiences. Sparrow Hospital is Mid-Michigan's preeminent pediatric facility with a Level III NICU (with ACGME-accredited fellowship), a 12-bed PICU, and a dedicated Pediatric Emergency Department that is a Level I trauma center. Residents learn to recognize and manage a wide variety of diagnoses across the spectrum of pediatric care. Both Sparrow Hospital and Michigan State University provide outpatient general and subspecialty clinic experiences with access to more than 25 unique elective experiences. The resident continuity clinic, Cedar Pediatrics, is maintained through a partnership with the Ingham County Health Department that helps us bring comprehensive care to Lansing's medically underserved population.
The diversity in our clinic sites emphasizes the diversity in our patient population and the conditions we care for. We strive to reflect that diversity in our faculty members and the members of our resident classes. We work to maintain an inclusive and supportive environment that will help all residents thrive, and we are always planning new ways to recognize and combat implicit bias and expand our cultural competence.
Why We Do It:
Program leadership and faculty members are truly invested in resident education. We emphasize protected didactic time and provide a variety of different educational experiences to facilitate preparation both for the board exam (with pass rates well above the national average) and beyond in your chosen clinical practice. With ample room in your schedule to individualize your career pathway, we have the tools to guide you on your journey. We are creating more electives every year to help facilitate your career goals. We are also open to new ideas – if there's something you're looking for, we will help you find it!
Our residents are amazing, compassionate, diligent, and enthusiastic! Our program really feels like a tight-knit family – residents are always hanging out together and supporting each other. We truly enjoy spending time with residents and getting to know them outside of our clinical work together.
We also love living in Lansing close to Michigan State University – the diverse population in the city means that there is no shortage of cultural and recreational activities both on and off-campus, and Lansing's central location in Michigan puts us close to fun day trip destinations such as Detroit, Grand Rapids, Chicago, and the Great Lakes!
Our Program Leadership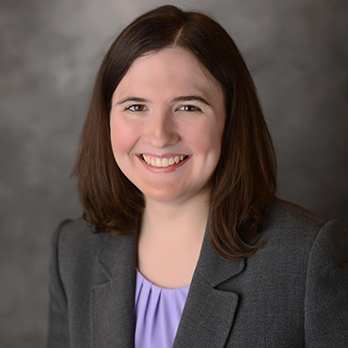 Emily Disbrow, MD
Program Director
Medical School: Michigan State University College of Human Medicine
Residency: Spectrum Health/Michigan State University/Helen DeVos Children's Hospital, Grand Rapids, MI
Hometown: Wheaton, IL
Clinical Work: General Pediatrician at MSU Health Care, precepting resident clinic, and some newborn rounding at Sparrow Hospital
Research Interests: My research is focused on medical education and curriculum development. I also enjoy QI projects that focus on primary care issues.
What I Like Most About the Program: I was excited about the blend of academic and community pediatrics and the strong emphasis on education. In our small program, residents benefit from one-on-one experiences with attendings and can have truly individualized learning.
What I Like Most About Living in Lansing: Having all the resources and fun activities (college football, college basketball, Broadway performances at the Wharton Center, beautiful gardens on campus) that go along with a Big Ten university combined with everything you can do right in Lansing (restaurants, breweries, minor league baseball games, touring the state Capitol building, kayaking the Grand River)
What I Like Most About Living in Michigan: I appreciate experiencing all four seasons to the fullest – snow-covered landscapes are beautiful and Michigan has skiing and even luging facilities, summers can be spent hiking at state parks or visiting the beach at any of the Great Lakes that surround the state, and taking a drive in the autumn to check out the fall colors simply can't be beat!
Hobbies: playing the piano, kayaking, following collegiate (Go Green!) and professional sports, playing softball, golfing
---

Michael Stiffler, MD
Associate Program Director
Medical School: Indiana University
Residency: Sparrow Hospital/Michigan State University
Past Experience: 26 years in general pediatrics at a staff model HMO in Lansing, also served as assistant medical director and medical director for 6 years
Hometown: Muncie, IN
Clinical Work: General pediatrician, currently staffing pediatric residency clinic and seeing some patients in MSU or Health Department clinics
Research Interests: Advocacy, currently involved in QI projects in clinic regarding immunizations, utilization of CXRs in pediatric ER
What I Like Most About the Program: Small size, university/community blend, interacting with the residents
What I Like Most About Living in Lansing: Michigan State University, State capital, big enough to find a variety of things to do but not overly crowded
What I Like Most About Living in Michigan: Outdoor activities-especially golf Hobbies: Golf, sports card collection