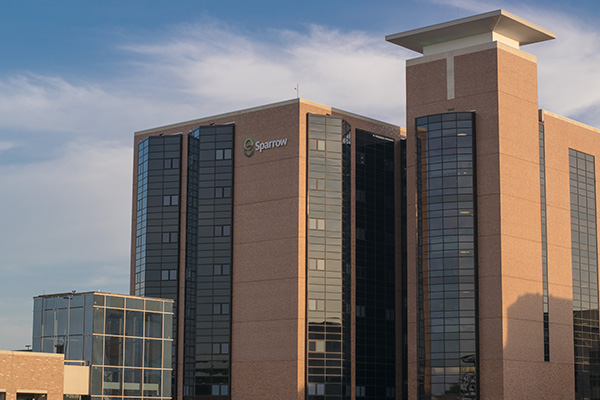 With more than 900 staff physicians and more than 600 licensed beds, Sparrow Hospital is Mid-Michigan's preeminent medical facility. Our partnership with Sparrow allows our residents access to a wide array of specialty and sub-specialty units. Whether you are looking for a career in general pediatrics or pursuing a fellowship, our comprehensive program will give you the well-rounded background and experience you need to succeed.
As an MSU Pediatric Resident, you will work the following rotations:
Pediatric Inpatient Ward
41 bed pediatric ward
five core general pediatrics hospitalists
2500 admissions per year, average daily census is 22. Interns participate in the care and management of 6-10 patients per day with senior residents and attendings overseeing the education of each intern. 2-3 faculty members, 2-3 senior residents, 4 interns and medical students assigned to the peds ward per rotation. Daily teaching rounds by board-certified faculty members and senior residents. One week of night shift per rotation for interns and seniors.
---
Newborn Nursery
50 bed newborn nursery
2 full time attendings
3500 births per year average daily census is 20. Residents are primary care giver to infants on the newborn teaching service. Over 500 newborns receive their follow-up care in the residency continuity clinics. Daily teaching rounds with attendings. Senior residents do calls from home one night per week and two weekends per rotation. Weekends include rounding on infants and home call.
---
Neonatal Intensive Care Unit
35 bed Neonatal ICU
6 full time neonatologists
600 yearly admissions, average daily census is 23. Residents are primary care physicians to their assigned neonates. They play an active role in the team management of these infants. Daily teaching rounds by neonatologists and fellows. Each resident has one week of night shift per rotation.
---
Pediatric Intensive Care Unit
12 bed Pediatric ICU
3 full time intensivists
650 Yearly admissions, average daily census is 8. Residents participate in the PICU by being the first manager of the patients, attending to traumas in the ER, medical emergencies, or treating child abuse victims, attending the OR with patients, and assisting with transfers to/or from other facilities or other floors within the hospital. Daily teaching rounds with a pediatric intensivist. Each resident in the PICU has one week of night shift per rotation.
---
Pediatric Subspecialties
Pediatric subspecialties are available for residents to do during elective rotation time. Most times pediatric residents are the only resident on the service, meaning they get one to one teaching from the subspecialist. The subspecialties available on site include Behavior and Development, Adolescence, Cleft Palate, Cardiology, GI, Pulmonary, Neurology, Nephrology, Hem-Onc, Genetics, Infectious Disease, Endocronology, Dermatology, Developmental Assessment Clinic, and Surgery.
---
Residents' Continuity Clinics
During the first year, residents are assigned one 1/2 day clinic during their in-hospital rotations (except ICU) and assigned two 1/2 days of clinic during all other rotations. During the second and third years, residents are assigned to two half-day clinics during all rotations except in-hospital rotations (wards and ICU). Third year residents can be assigned up to three 1/2 days of clinic per week. Patients are assigned to residents and scheduled according to residents schedule whenever possible for continuity. Residents get their patients referred to them after hospital stays, from the RNICU, or from the newborn nursery. Preceptors are MSU faculty attendings. 1-4 residents are scheduled.
The rotation schedule is prepared each year after receiving resident schedule preferences.
---

Overview of Requirements for 39 4-week rotations:
MD/DO 3-Year Requirements
PGY 1 (13 4-week blocks)
4 blocks Ward (junior resident)
1 block Neonatal Intensive Care Unit
1 block Pediatric Emergency Medicine
1 block Newborn Nursery
1 block Pediatric Surgery
1 block General Pediatrics
1 block Developmental/Behavioral
1 block Systems Based Practice
2 blocks Subspecialty Elective
PGY 2 (13 4-week blocks)
3 blocks Ward (senior resident)
1 block Neonatal Intensive Care Unit
2 blocks Pediatric Intensive Care Unit
1 block Pediatric Emergency Medicine
1 block Adolescent Medicine
3 blocks Subspecialty Elective
2 blocks Clinical Pathway (1 block Research)
PGY 3 (13 4-week blocks)
2 blocks Ward (senior resident)
1 block Neonatal Intensive Care Unit
1 block Pediatric Intensive Care Unit
1 block Pediatric Emergency Medicine
1 block Newborn Nursery
3 blocks Subspecialty Elective
4 blocks Clinical Pathway