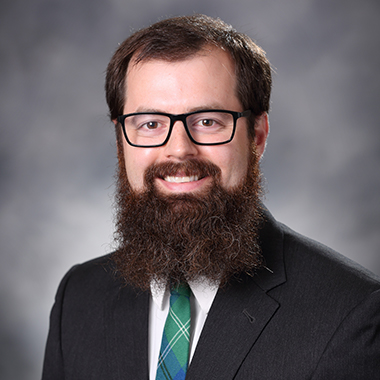 Clinical Assistant Professor
Division Chief Medical Genetics and Genomics
Spectrum Health Helen DeVos Children's Hospital
Email
Dr. Caleb Bupp is an Assistant Professor in the College of Human Medicine's Department of Pediatrics and Human Development and a medical genetics physician with Helen DeVos Children's Hospital and Spectrum Health West Michigan, where he serves at Division Chief of Medical Genetics and Genomics. His clinical interests include rare genetic syndromes, advancing diagnostic technology, and education which has translated to research opportunities. Dr. Bupp has been involved in initiating rapid whole genome sequencing, increasing diagnostic yield of testing (Gerber Foundation Pediatric Research Grant, 2021), and helping facilitate increased access to testing throughout Michigan through Project Baby Deer.
In addition, he has participated in many team studies and publications identifying rare genetic disorders and further understanding their phenotypes. In particular, he was part of a group that identified a novel genetic syndrome caused by ODC1 variants now termed Bachmann-Bupp syndrome (OMIM #619075) and is involved in treating patients with this disorder with DFMO. This work led to the formation of the International Center for Polyamine Disorders where he serves as the clinical director.
Dr. Bupp was also part of forming the Rare Disease Network https://calvin.edu/events/rare-disease-network/ with Spectrum Health West Michigan, Michigan State College of Human Medicine, and Calvin University. It serves as venue for connecting patients and families touched by rare disease with community resources, education, and research including a yearly Rare Disease Day Symposium.
Education & Training
Medical Genetics Residency, Greenwood Genetic Center, Greenwood, SC, USA (2012 - 2014)
Pediatrics Residency, University of Louisville, Louisville, KY, USA (2009 - 2012)
MD, University of Toledo, Toledo, OH, USA (2005 - 2009)
BS, Grove City College, Grove City, PA, USA (2001- 2005)
Selected Grants
Children's Foundation - Rapid Whole Genome Sequencing
Selected Peer-Reviewed Publications
Bupp C, Schultz CR, Uhl KL, Rajasekaran S, Bachmann AS. Novel de novo pathogenic variant in the ODC1 gene in a girl with developmental delay, alopecia, and dysmorphic features. American Journal of Medical Genetics – accepted for publication
Prokop JW, May T, Strong K, Bilinovich SM, Bupp C, Rajasekaran S, Worthey EA, Lazar J. Genome Sequencing in the Clinic: The Past, Present, and Future of Genomic Medicine. Physiological Genomics, 2018.
Spellicy CJ, Norris J, Bend R, Bupp C, Mester P, Reynolds T, Dean J, Peng Y, Alexov E, Schwartz CE, Stevenson RS, J Friez M. Key apoptotic genes APAF1 and CASP9 implicated in recurrent folate-resistant neural tube defects. European Journal of Human Genetics, 2018.
Anazi S, Maddirevula S, Salpietro V, Asi YT, Alsahli S, Alhashem A, Shamseldin HE, AlZahrani F, Patel N, Ibrahim N, Abdulwahab FM, Hashem M, Alhashmi N, Al Murshedi F, Al Kindy A, Alshaer A, Rumayyan A, Al Tala S, Kurdi W, Alsaman A, Alasmari A, Banu S, Sultan T, Saleh MM, Alkuraya H, Salih MA, Aldhalaan H, Ben-Omran T, Al Musafri F, Ali R, Suleiman J, Tabarki B, El-Hattab AW, Bupp C, Alfadhel M, Al Tassan N, Monies D, Arold ST, Abouelhoda M, Lashley T, Houlden H, Faqeih E, Alkuraya FS. Expanding the genetic heterogeneity of intellectual disability. Human Genetics, 2017.
Ma L, Bayram Y, McLaughlin HM, Cho MT, Krokosky A, Turner CE, Lindstrom K, Bupp CP, Mayberry K, Mu W, Bodurtha J, Weinstein V, Zadeh N, Alcaraz W, Powis Z, Shao Y, Scott DA, Lewis AM, White JJ, Jhangiani SN, Gulec EY, Lalani SR, Lupski JR, Retterer K, Schnur RE, Wentzensen IM, Bale S, Chung WK. De novo missense variants in PPP1CB are associated with intellectual disabilities and congenital heart disease. Human Genetics, 2016.
Bupp CP, Sarasua SM, Dean JH, Stevenson RE. When folic acid fails: Insights from 20 years of neural tube defect surveillance in South Carolina. American Journal of Medical Genetics, 2015. Article featured on cover.
Bupp CP, Demmer LA, Saul RA. Surveying the current landscape of clinical genetics residency training. Genetics in Medicine, 2015.
Lindy AS, Bupp CP, McGee SJ, Basehore MJ, Stevenson RE, Friez MJ. Truncating mutations in LRP4 lead to a prenatal lethal form of Cenani-Lenz syndrome. American Journal of Medical Genetics, 2014.